Finding one's street photography style is not an easy task
Finding your own street photography style is a great challenge. Until a photographer is able to reproduce characteristic photos, a lot of patience, practice and time for experimentation is typically required.
To get inspiration for my own photography, I enjoy to have a closer look at the work of some well-known masters of street photography. These artists manage to reproduce their visual language at a very high level and give their photographs their own personal style.
This topic is exceptionally fascinating, so I would like to dedicate the following post to finding one's style in street photography.
The great masters of street photography
Henri Cartier-Bresson
First, let's have a look at the work of some masters of street photography, who have a very different, but characteristic style.
I would like to start with the most famous representative of street and reportage photography, Henri Cartier-Bresson. He was a master of image composition, meticulously planning his photos and waiting for the perfect moment. He usually photographed his expressive black-and-white images with a 50-millimeter lens. Somewhat removed from the scene, he was able to use this focal length to atmospherically stage his street scene as a silent observer.
Sieh dir diesen Beitrag auf Instagram an
You should definitely take your time to have a look at the work of the French photographer, because Cartier-Bresson was a master of image composition. Hardly any other photographer has implemented this skill better than he did.
Saul Leiter
In complete contrast to Cartier-Bresson's work, with his illustrative-documentary character, is the style of the U.S. photographer Saul Leiter. Although Leiter also photographed in black and white, many of his well-known photos are colorful, abstract, and show an artistic composition. Atypical of street photography, many of his well-known photos were taken with telephoto focal lengths. Those who prefer an experimental or abstract approach to street photography will find artful inspiration in Leiter's photography.
Sieh dir diesen Beitrag auf Instagram an
Bruce Gilden
The U.S. reportage photographer Bruce Gilden has a completely different approach. He is best known for his captivating documentaries of the inhabitants of New York. Gilden can certainly be called a controversial photographer, because his style is very offensive. Without fear, he gets very close to his subjects with a 28-millimeter lens and works with frontal flash.
The strobe creates a very strong contrast and separates the human subjects from its background. People he photographs are often socially underprivileged and stand out in their appearance, which is intensified by the flash. Gilden's photography is not aesthetic, but shocking, dirty and can be quite disturbing.
Even if his style of photography would be unthinkable and probably not even actionable in many countries, his ability and courage to get very close to his subjects are impressive and certainly teach us that street photographers have to approach people to create interesting scenes.
Sieh dir diesen Beitrag auf Instagram an
Silent street photography
Street photography can also be calm, quiet and melancholic. Magnum photographer Ferdinando Scianna, for example, shows only sleeping people in his work "To Sleep, Perchance to Dream."
Another beautiful example of silent street photography is the following picture by the great photographer Vivian Maier.
Sieh dir diesen Beitrag auf Instagram an
Especially for introverted, quiet and cautious photographers, silent street photography is a subgenre in which you need to seek the proximity of your subjects.
Which street photography style suits me?
If you are just starting to explore street photography, or if you are currently suffering from a creative blockage so that your photography is just not working out the way you imagined it, you can always resort to the work of the great masters as source of inspiration.
I think that we should aim for a style that suits us. Our personality should be incorporated into the way we shoot, because by doing so we can identify with our own photos and thus create authentic pictures.
Not everyone can shoot like Bruce Gilden, but if you prefer a close street photography style, you can always push yourself to get a little closer to your main subject to make a scene more exciting. That is actually what I try.
If you are more introverted, you may flourish in abstract street photography, where you have to be very patient and compose your scenery carefully to create a calm atmosphere.
Finding a niche
I believe that it is very important to experiment with different street photography styles and try what kind of photography suits you best. Some photographers follow a very narrow style and find a niche and others are more generalists.
I think both ways are valid, but finding a niche, practicing it and cultivate it can be a good thing!
Allan Schaller's niche, for example, is black-and-white photography with strong contrasts. He has cultivated this style – he does nothing else – and you can see it in his expressive photos.
Sieh dir diesen Beitrag auf Instagram an
I highly recommend his lecture on this topic, which I find very inspiring!
My own way
Discovering my own style is certainly far from being complete. Starting now my third year of street photography, I'm still enjoying to experiment with different styles and techniques and for me that's a good way to go.
In my hometown Vienna, I often revisit same locations and focus on interesting details and exciting encounters with people, which I try to capture spontaneously with my camera. I continually move around and rarely stay in one place for too long. I shoot both, black and white and color, and do not particularly aim for silent or abstract scenes, but still capture them when they happen.
At the moment, I would describe myself as a generalist in street photography, not settling on a particular style but still having fun to try and figure out what works best for me. I think a certain style or niche may emerge for me over time as well, but I personally do not bother being a generalist either. Also, I still enjoy studying the work of the great masters of street photography for inspiration.
In the last couple of months I've been working hard to improve my image composition and tried to make my photos more interesting by getting closer to my subjects. I have switched from 35 mm to more wide angle focal length (24 and 28 mm) for most of my work. The close distance does challenge myself a lot and often I have to overcome my fear of getting noticed to capture an exciting scene.
This photography, however, is demanding, but also very satisfying when I succeed in taking an exciting photo.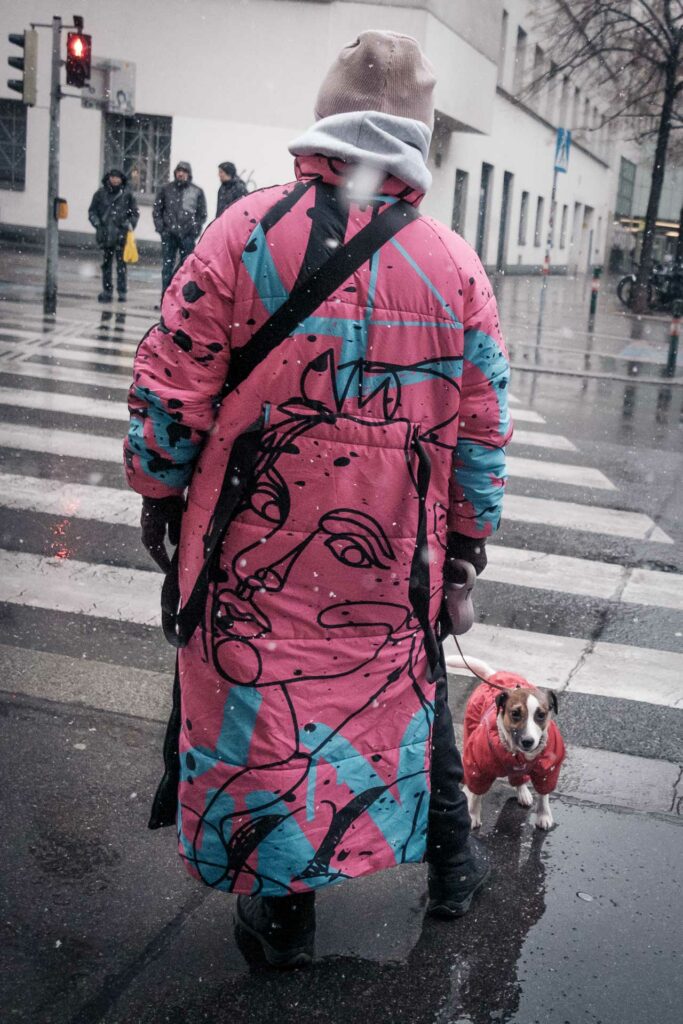 Find more of my street photography pictures in my selected work section.
What street photography style do you prefer or cultivate and what has helped you finding your niche?
I'm looking forward for a stimulating discussion in the comments!
Interested in my street photography experience?
Follow me on Instagram and get notified for new street photography blog posts.